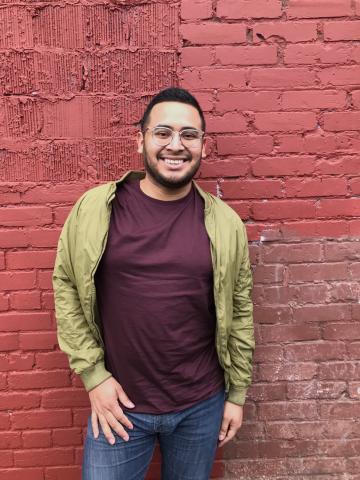 My name is Roger Sanchez. I was brought up in the Church of Jesus Christ of Latter Day Saints, also known as the Mormons.
When I was fourteen, my father confronted me and asked if I had "same-sex attraction." I denied it. Still, my father scolded me for being effeminate and my church bishop told me to control my mannerisms.
In 2006, when I came forward about my "same-sex attraction" the church bishop recommended "conversion therapy."
My father told me the natural man is an enemy of god. I had nowhere else to turn so like a lamb to the slaughter I consented to conversion therapy.
I had nowhere else to turn so like a lamb to the slaughter I consented to conversion therapy.
At the time, I did not know the negative consequences it would have in my life. I did conversion therapy 2006 and later in 2008-2009. I cried and contemplated suicide to end my suffering because in my mind I was not healing I was not getting better.
Like a sponge, I absorbed everything from conversion therapy. In 2011, I met a young man who would become a lifelong friend. He was also gay and Mormon. He helped me come to terms with my sexual orientation and gender identity. He saved my life. Although the effects of conversion therapy played out my life which lead to substance abuse. I was able connected with a therapist who helped me start healing. I survived because someone reached out to me.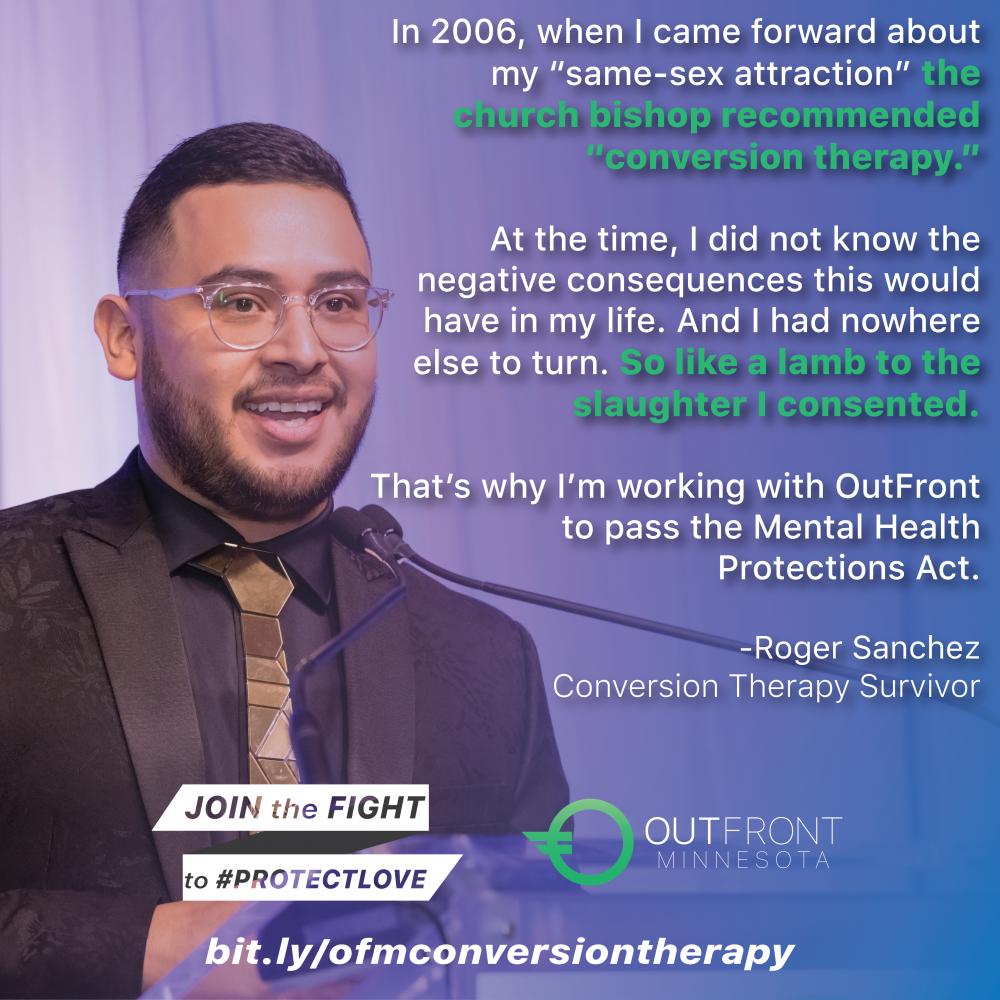 People who practice conversion therapy still think that being LGBTQ is a mental illness that should be cured. Survivors of all ages have contacted OutFront to help stop this psychological abuse.
We have a huge opportunity to ban conversion therapy this year. With a new pro-equity majority in the MN House, we have a shot at passing a ban through the legislature. And if that does not work, we will ask Governor Walz to ban the practice through Executive Order.
Despite being denounced by every mainstream medical and mental health association, dozens of licensed medical providers in the Twin Cities and across Minnesota, including Michele Bachmann's husband, still practice conversion therapy. It must stop.
Thank you for supporting OutFront and helping to end conversion therapy and protect LGBTQ youth. Together, we are going to make Minnesota the 15th state to ban conversion therapy.
---
Roger Sanchez serves as a board member on OutFront's Political Action Committee and is working with our coalition to pass LGBTQ mental health protections for Minnesotans. Stories like Roger's are all too common. His story is the first in our series '#MentalHealthMonday' to expose the dangers of the discredited practice known as "conversion therapy."
If you or someone you know has been subjected and harmed by "conversion therapy", we are here to help. Our helpline is operated 24/7 and has trained staff and volunteers to ensure you have access to the resources you need.
If you would like to join the fight to #ProtectLove sign our petition to ban this harmful, fraudulent practice and learn more about getting involved.