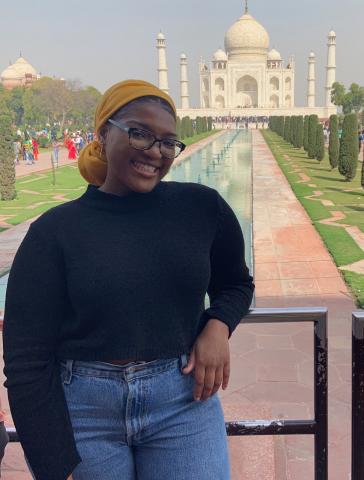 Bethany Bobo joined the OutFront Communications Team as Digital Organizer in the Spring of 2020. She works as a liaison between each department at OutFront and our supporters by promoting the work of OutFront and advocating for our community in the digital realm.
Bethany is a native of Olive Branch, Mississippi and relocated to Northfield, Minnesota four years ago to attend Carleton College where she completed a Bachelor of Arts in English and a minor in Music Performance. She worked in the campus' intercultural office, with youth advocacy organizations and co-founded a student movement during her college career. She is now a board member of Carleton's Multi-Cultural Alumni Network. In all of those roles, Bethany found ways to utilize social media to promote grassroots and institutional change and is eager to do that same kind of work with OutFront.
When she's not preparing and editing content, Bethany can be found using Groupons at new restaurants, making playlists, baking or FaceTiming her dog back home.
Fun Facts about Bethany:
I love the Sound of Music and even have the 50th Anniversary Ultimate Collector's Box Set
I used to powerlift in high school (emphasis on the used to)
I love making carrot cake and roasted pecans